Human-Carnivore Conflict (HCC) is commonplace in Georgia, but it is especially severe in and around protected areas, in which case local people's negative attitudes towards carnivores spills over into their antagonism to nature conservation per se, undermining the effectiveness of the affected protected area. Livestock farmers often complain about the fact that Borjomi-Kharagauli National Park (BKNP) administration does not allow guns into the park, while they fail to offer alternative ways to protect their livestock from carnivores (bears and wolfs), or to compensate for the losses. According NACRES experience compensation schemes, as well as improved livestock protection/husbandry have the great potential to mitigate HCC and increase PA effectiveness.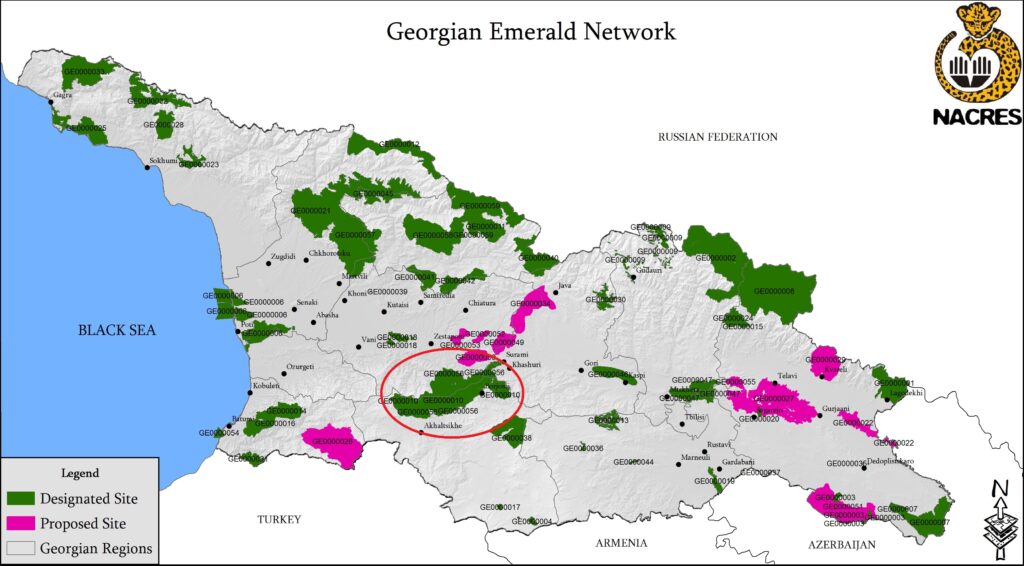 The goal of this project supported by Bears in Mind is to mitigate human-carnivore conflict in BKNP through active engagement with local players and the introduction of innovative community-based insurance/compensation schemes. This will be reached by:
studying the HCC in BKNP to assess losses, underlying reasons etc. Furthermore, select effective livestock protection measures and support their implementation.
test a locally adapted insurance/compensation scheme with the support of relevant experts.
establishing a livestock loss insurance/compensation, run by or with a strong involvement of local actors/communities.
NACRES team carried out two comprehensive studies to find out more about the HCC scale and root causes in Borjomi-Kharagauli protected areas.
In the first study they found that among the farmers, livestock was the most important and profitable husbandry type of activity and any depredation cause significant financial loss among the locals. 94% of the respondents mentioned that they suffered from wild animals and named wolf as the most problematic animals (95% of interviewee) and named bear as second nuisance animal (66%). The most of the respondents think that wild animal attacks are more acute in alpine pastures (n=43), but substantial numbers said that problem is equal in alpine meadows and village surroundings (n=25). The majority of the local population thinks that carnivore damage increased in recent years. They blame protected areas and protection regime that allows to increase carnivore numbers. 78% of respondents received damage from predators in 2021 and 67% reported the damage as significant. Most of the respondents believe that the existing means of protection are ineffective and they are interested in introducing alternative, effective protection mechanisms.
According to second study they found that the financial loss is not as high as previously mentioned by the residents although it stays significant. On the summer pastures total damage was 25,580 GEL (equivalent of about € 8,960). Livestock protection measures are weak on the summer pastures. Farmers often do not herd cattle, and dogs only protect livestock near summer camps and often use solar powered lights to deter predators.
NACRES installed 4 electric fences around beehives and disseminated 8 Foxlights devices. Due to complicated regulation to clear electronic devices at customs, they experienced huge a delay in receiving the equipment. When the electric fence equipment arrived, all the farmers already moved back to their villages and almost nobody stayed on summer camps. NACRES will further test the equipment in spring 2023.